The season for Topps Allen & Ginter is officially in full swing as collectors including myself look forward to this time every year.  Allen & Ginter is on the top of many collector's list as being one of their favorite products.
In case you don't know already, Allen & Ginter has morphed into a solid brand of cards featuring baseball players, retired greats, non-baseball players, famous objects, landmarks, and other interesting and unusual subjects. Some baseball collecting purists prefer to have their baseball cards be 100% related to baseball and that is OK. However, Allen & Ginter is not for everybody but it is for those who like baseball along with a bit of the odd and abnormal. Starting back in 2006, Allen & Ginter won over collectors with a solid autograph lineup and the introduction of rip cards. Rip cards provide collectors with an interesting dilemma. Collectors who get a rip card can either keep the card as is or they can rip the tab on the back of the card exposing the prize inside. These rip cards have been a thriving part of Allen & Ginter's success over the years. As popular as rip cards are, I am surprised that Topps has not used the concept of rip cards in their other brands. Although I didn't open much Ginter this year I couldn't help to wonder what cards I would get if I was to open several cases of Allen & Ginter? Well, I know someone that did so I contacted him to find out what his great pulls were.
As most of you know by now, Brent Williams, the world's number one case breaker when it comes to volume (and service in my opinion), opens several cases of most Topps products. For 2015 Topps Allen & Ginter, he opened 36 cases!!  I immediately contacted him on Twitter (his handle is @brentandbecca) and asked him what his top five 2015 Topps Allen & Ginter pulls were by wow factor out of his incredible 36 case break. After days of ripping, sorting, listing, selling, and shipping, Brent kindly found a little time to provide me with a list. There are definitely some cards that make me go "wow"!
Here are Brent's best hits ranked by "wow factor". Brent gave me a Top 5 list of his pulls. Here they are from 5 to 1:
TOP FIVE BIGGEST WOW FACTOR CARDS OUT OF BRENT'S 36 CASE BREAK!
Click on the picture of the card to see what similar cards are going for on eBay.
5. Mike Trout Red Ink Autograph /10 SOLD: $675.00

Click To See More Like This Mike Trout On eBay
Brent ended up selling this Mike Trout Red Auto 10/10 for $675. In my opinion, considering the rarity of the card and how great of a season Mike Trout is having, I think both the buyer and Brent got a fair deal with this one.
4. Max Scherzer Jumbo Cabinet Relic Patch 1/1 SOLD:  $450

Click To See More Like This Max Scherzer Cabinet Relic On eBay
These cabinet relics are really neat in my opinion. Brent would have gotten a lot more for this if the relic was of Scherzer's current team, the Washington Nationals. This kind of thing happens quite a bit unfortunately. Card companies have to get the cards ready for production months before release and when a player gets traded it is very difficult to stop the process.
3.  Rocky Balboa Blue Ink AUTOGRAPH

Click To See More Like This Rocky Balboa Autograph On eBay
Not only are Ginter fans wanting this card but it has attracted the eyes of people who are not even card collectors.  It is rumored that there are only ten copies of this card.  There have only been four of these cards to surface at the time of this blog post and the first one sold for $950.  For now, Brent is fielding offers but he is thinking of keeping this one for his private collection.
2. Bryce Harper Autograph CODEBREAKER 1/1  SOLD: $349.99

Click To See More Like This Bryce Harper Autograph On eBay
This card has a little story to it.  When Brent first pulled it, obviously he knew he had a rare card and one that would sell for quite a bit.  He listed it on eBay and it sold fairly quick for $349.99.  He then realized that this card was rarer than originally thought.  If you look at the picture closer, you will see that this is a codebreaker card.  It is a 1/1 card that wasn't supposed to be packed out.  The codebreaker cards were made as the grand prize to be given to the person that cracks the Ginter code game that is taking place right now.  However, Topps screwed up by not holding these cards aside.  Instead, these one of ones were packed out and collectors are finding them and selling them on places like eBay.  Brent was offered a lot more for this card while the sale was in process.  However, Brent is a person with integrity and did not cancel the sale while it was in process like some unscrupulous dealers would have done.
1. Ted Williams Jumbo Cabinet Cut Signature 1/1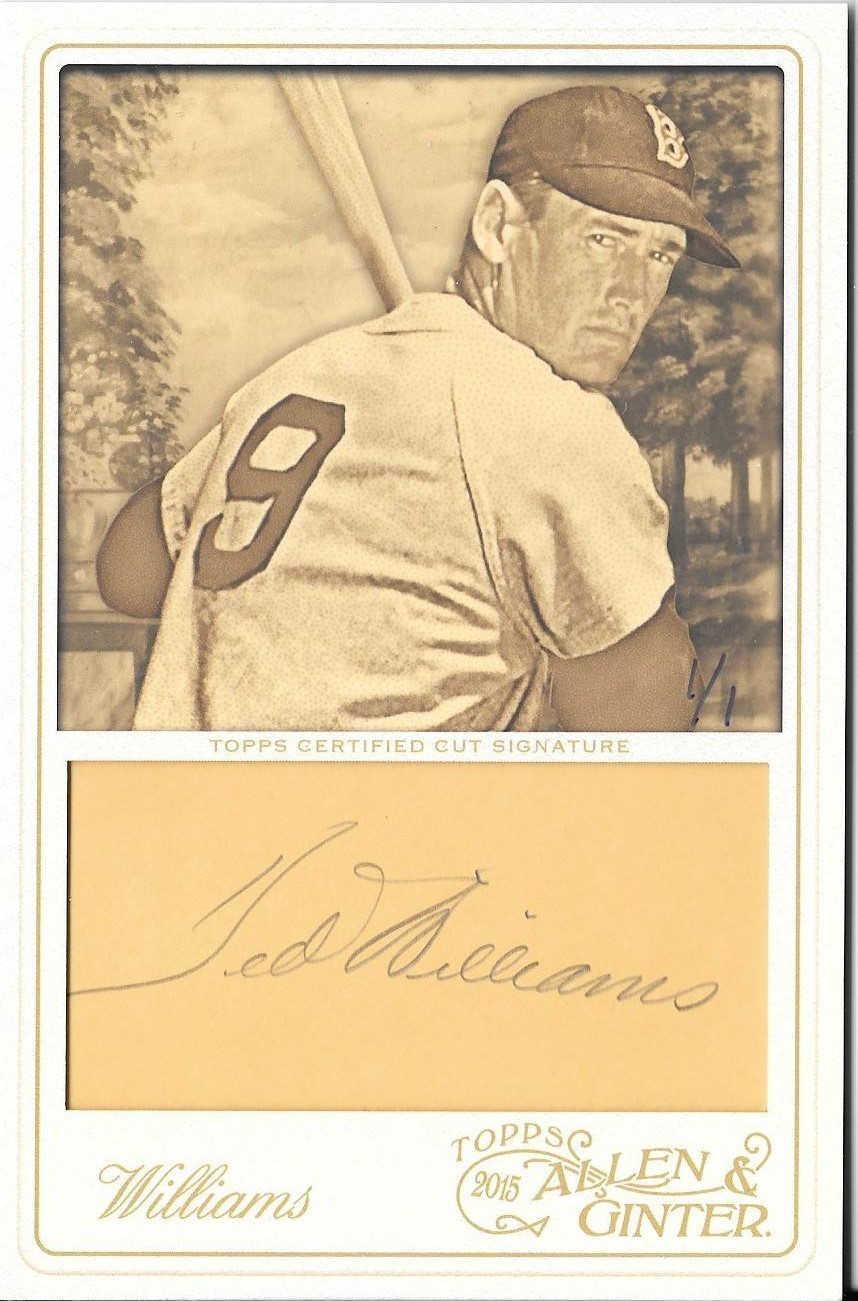 Click To See More Like This Cut Signature Card On eBay
Cut signature cards are extremely rare.  In fact, there are only 25 cut signatures in the 2015 Ginter lineup and this is arguably the best one out there.  Twenty of the cut signatures appear on cards and only FIVE appear as jumbo size cabinet cut signatures. This is simply an amazing pull!  Brent is currently accepting offers for this gem and if it doesn't sell, it will end up in his private collection.  Some cut signatures out there from different products look pretty bad. I have to say that this is one of the nicest I have seen.
So how do you think Brent did? Check out some of his previous case breaks to see how well he has fared. On the righthand side of my blog, just click on the category Brent's Case Breaks. Again, you can follow Brent on Twitter at @brentandbecca and you can follow me @parker94ttu.  Be sure to check out my web site at:  www.mytoppscards.com.
Also, you should check out all of the items from Brent's store! He has a lot of great cards and great deals.  You will find that he is great to work with and ships quickly.  Check them all out here by clicking on this logo: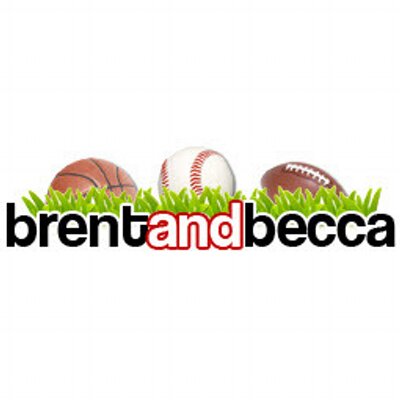 Craig from Texas